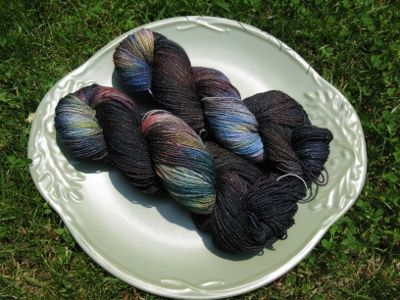 As Charlie Sheen would say, WINNING! I won a contest from
Light Brown Hare
(such a cute name...
I dream of Jeannie she's a light brown hare...
). I'm so excited because the yarn looks beautiful!!!
I haven't had much time to knit since my last post, but the five minutes I did knit were very eventful. I went camping to Devon (about half an hour from where I live) with my Pathfinders (like Girl Guides but older, 12-14yrs). It was FREEZING so we spent the day in front of the fire. It warmed up enough so I could take my hands out of my pockets. The fire was very tame so there weren't many sparks, so I pulled out my knitting. All of a sudden, there was a thunderous crack (well a little noise) and a burning chunk of ash flew into the air and landed on my Aidez! I managed to get it off quickly without too much damage. It just landed on the ribbing, and I can't find the spot where it landed, so I think it's OK. It was a bit dark in that spot but I think it rubbed/came off (so it was just ash that transferred rather than the wool itself burning).
Other than that... I don't have much else to share. I'm going back to Devon today (going from only having gone one before in my life to going twice in two weeks!) to the
Devonian Botanical Gardens
. If you're ever in/near Edmonton, I think it's highly worth a visit (I loved it last time but I was speeding through on a golf cart because I was late for a wedding). Have a great weekend everybody! Hope the weather is as fabulous for you as it is for me here!